Oxyzone Air Pvt. Ltd. – Established In The Year 2014, and registered in 2019. " Oxyzone Air Pvt. Ltd. " Certified ISO 9001:2015. (GSTIN 09AACCO709K1ZX) (MSME: UDYAM-UP-290000137), are counted amongst the renowned manufacturers of ozone generators, ozonation systems, diffusion based ozonation system, fruit & vegetable ozone generator, Packaged Drinking Water, Swimming Pool, Waste Water treatment, effluent treatment, laundry, cooling tower water treatment and air purification etc.
As a leader in ozone disinfection treatment, Oxyzone Air Pvt. Ltd. designs and manufactures ozone generators incorporating the most sophisticated electronics technology available. Offering wide-range of ozone generators from the laboratory model to the largest ozone systems. All ozone generators have a variety of technical features developed to simplify installation and allow minimal operator attention and maintenance.?
With a legacy of innovation, dedication to quality, and a commitment to environmental stewardship, we are the trusted partner for businesses and individuals seeking advanced ozone generation technology.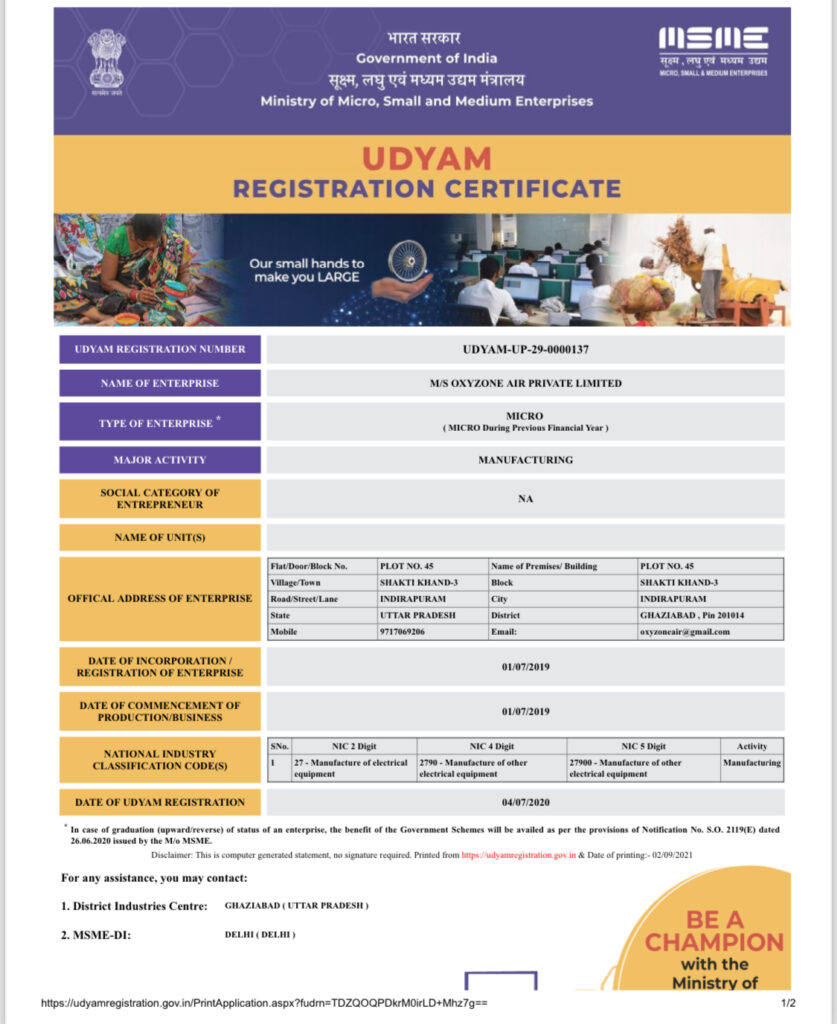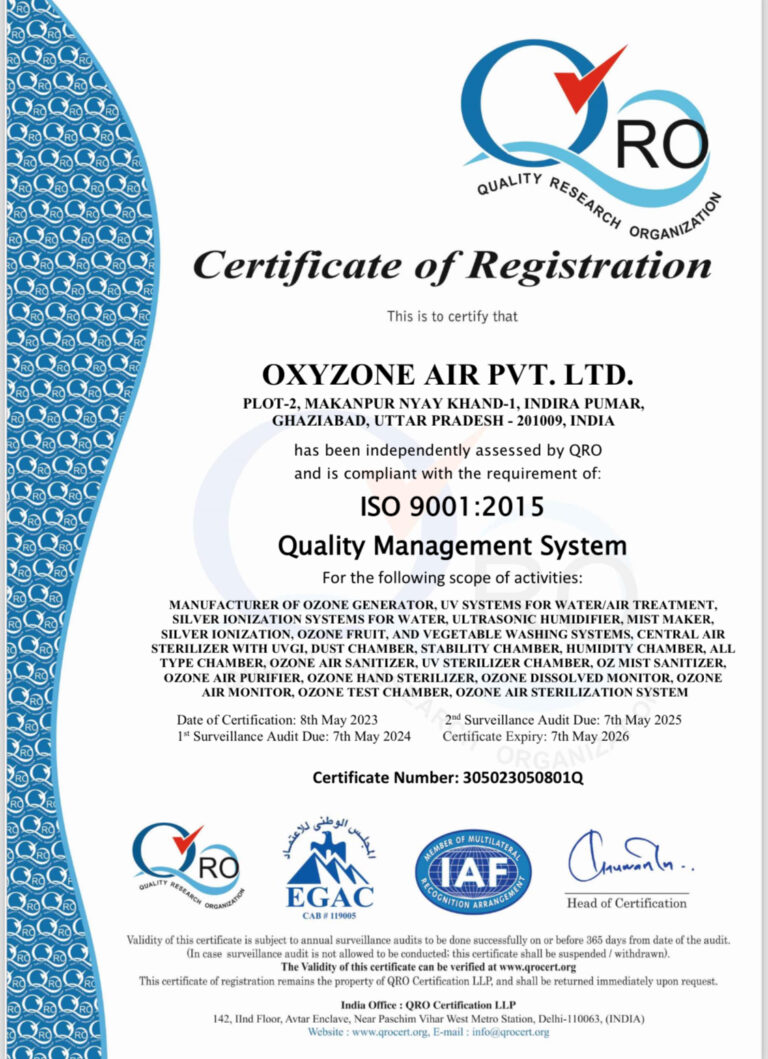 Oxyzone Air Pvt. Ltd. offers creative value-added solutions with a combination of cost-effective and environmentally friendly technology and innovation, service centric approach towards energy and water savings to:
Increase its customers' competitiveness
Lower operating costs
Increase the service life of installations
Ensure production reliability
Control risks
Oxyzone Air Pvt. Ltd.  is an Indian origin company guided by a sense of enterprise and innovation makes it one of the key players in the Ozone equipment market. Our systems are made in-house to the highest standards assures consistent, reliable transfer of ozone into the water and meet current electrical and air safety requirements. It is designed for easy installation, operation, and maintenance. In addition to our standard products, we can design custom solutions tailored to meet specific requirements and applications. All repairs, servicing and technical support are also provided by us through our global network of distributors, along with our regional sales and service representatives in India. The products developed and marketed by Oxyzone Air Pvt. Ltd. include ozone generators ranging from as low as 20 g/h capacity to over 20 kg/h from single ozonator for high end bulk water treatment applications. Our product portfolio also includes all system components required for complete ozone system. The accessories developed include ozone mass transfer systems, ozone contacting systems, ozone injection systems and ozone destructors for destroying undissolved ozone in water
Today, Oxyzone Air Pvt. Ltd. is moving forward in company and product development by understanding the needs of the market, to become the most trusted and innovative supplier of environmentally friendly technology to continue to respond to current and future market needs.
MAIN ASSETS
An integrated Ozonator Manufacturing company
Secure procurement of its raw materials for the manufacture of its products
With our technical know-how for the most diverse ozone applications, we advise and support our customers.
Water resource optimization
A diversified offer: Customized Design & Engineering, Products, and Services
AFTER SALES SERVICE
We Are Commitment To Keep Your Equipment Operating At Peak Efficiency For Years To Come. Our Competent Service Is Characterized By High Technical Qualification, Agility And Flexibility. We Serve You Through Our Promptness In
Periodic Service
Under Warranty / Out Of Warranty Support
Spare Part Support
FMC (Full Maintenance Contract)
Ozone Generator Manufacturer in India